Not only do clean dryer vents improve the efficiency of your dryer and lower your energy costs, clean dryer vents make your home safer from fires. D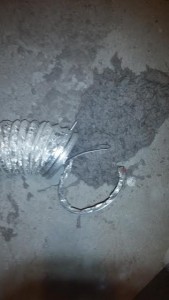 ryer vents are the second leading cause of fires in homes. According to the CPSC each year there are tens of thousands of fires caused by dryer vents. These fires can occur when lint builds up in the dryer vent or exhaust duct. Lint from your dryer gets trapped in your dryer vent and accumulates over time. This accumulation can become a fire hazard. The lint blocks the flow of air and the excessive heat buildup can result in a fire.
The good news is these fires are preventable with proper maintenance. It is important to have your dryer vents cleaned on a regular basis to reduce the risk of fire. Your vent should be inspected for any blockage, at least, every 6 months. Not only will cleaning your dryer vent reduce your risk of fire but it will also save on energy costs by reducing dry times. When the lint builds up in your dryer vents your dryer has to do a lot more work for longer periods of time to get your clothes dry. This will not only cause you to use more energy it will cause your dryer to wear out faster.
The skilled professionals atMoldguys Restoration specialize in air duct cleaning including dryer vents. We will come to your home and completely clean out your vents removing all possible fire hazards, and leave your home safer. Don't let a dirty dryer vent wreak havoc on your home or routine. Call Moldguys Restoration LLC today at (781) 910-5029 to schedule a dryer vent cleaning.