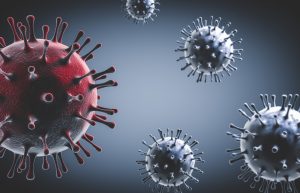 As the situation regarding COVID-19 continues to evolve, it's essential that everyone across the world is doing their part to slow the spread in any way they can. As small businesses do start to return to work, it's crucial to ensure that the building is safe and sanitary to prevent the virus from spreading amongst your employees and their families. Taking cleaning and sanitation precautions is a necessity.
While Moldguys Restoration has always been committed to keeping your home and businesses safe, we're adapting our services to continue serving and protecting our community at this time. In addition to our mold removal and air duct cleaning services, we'll be rolling out a new service. Many mold companies have begun offering fogging services, but we're taking it one step further to ensure your building is safe: Our team is providing disinfectant services, including HEPA vacuuming and then fogging the air. The combination of these two methods will leave your business sanitary and allergen-free. Keep reading to learn more about how these services work, and why they're especially crucial during this time.
How HEPA Vacuuming Works
HEPA vacuums, also known as high-efficiency particulate absorbing vacuums, are used for contamination control in a variety of environments. They have the ability to trap and remove a large amount of very small particles in the air that other vacuums would simply recirculate back into the air. HEPA vacuums use a mechanical air filter that forces air through a fine mesh and traps any harmful particles in the air, including dust mites, pollen, tobacco smoke, and other allergens in the air. Removing these pollutants is especially important if anyone in your home suffers from allergies or respiratory conditions. Our team at Moldguys Restoration has extensive experience using HEPA vacuum cleaners as a method to keep the air in our customer's homes clean. We're using this as the first step in our disinfectant service to ensure that all dust mites and particles are removed before we begin fogging.
Disinfectant Fogging Services for Small Businesses
We're providing disinfectant fog and misting services in homes and businesses to effectively kill bacteria and germs. Having your building disinfected will give you and the occupants, whether that be your family, employees, or customers, peace of mind knowing that you've taken precautionary steps to reduce the risk of contracting and spreading infectious diseases such as COVID-19. The disinfectant fogging provides long-lasting residual protection to prevent germs and fungi from growing on surfaces of your building even long after the application is complete. It leaves no residue behind, and you'll be able to safely re-enter the area just 1 hour after the fogging is complete.
Contact Moldguys Restoration LLC
Being proactive and taking precautionary measures to protect our community is essential. If you're interested in learning more about our disinfectant fogging and HEPA vacuuming services, get in contact with the experts at Moldguys Restoration LLC today! We're mainly focusing on small businesses but can also fog homes, cars, and beyond. Our services are available in Bridgewater, Hanson, Plymouth, Kingston, Duxbury, Marshfield MA and beyond. Give us a call at 781-910-5029 to discuss the options and schedule a service today!