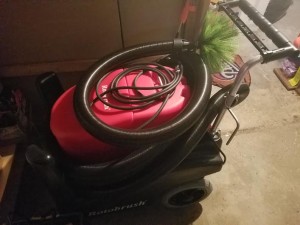 Moldguys Restoration is excited to announce that we have just invested in a brand new Air Duct Cleaning Machine, The Rotobrush aiR + XP Brush Beast. This machine is one of the most efficient air duct cleaning systems on the market. With a commanding vacuum system, the Brush Beast can help remove even the heaviest of buildups throughout your air duct system.
Unlike previous machines, this machine has 4 vacuum motors on the unit which allow for a 90% increase in vacuum power. This machine will help our already highly trained technicians removed even the heaviest of buildup in any air duct system.
This machine is also portable and wireless which will allow our team to get into even the tightest of spots. The Brush Beast  comes with 3 different size hoses to clean any air duct your property may have, from small, to air ducts up to 26" in height can be effectively cleaned with this machine.
When it comes to air duct cleaning Moldguys understands the importance of keeping your home safe. The Brush Beats comes with bag filters including heavy duty industrial strength filters, as well as HEPA filters, which mean cleaner air for you and your home. These machines are designed to be completely safe and gentle on your air ducts. Using the safe speed of 450 RPM to ensure your air ducts are never damaged.
Check out more about Moldguys Restorations new Air Duct Cleaning Machine for yourself at rotobrush.com and make sure to call us today to schedule your next Air Duct Cleaning.