Mold in your home or business is nothing to play around with. Not only will it damage your property and decrease its value, it can be harmful to you and your families physical health. Microscopic mold spores can enter your home through a lot of different avenues, making it difficult to detect exactly where it's coming from. Below, we'll take a look at the tell-tale signs of mold growth in your home, so you can be on the lookout for this terrible inconvenience and catch it before the problem amplifies.
Odd Odors
Sometimes mold can be undetectable by eye-sight alone. If there is an infestation of mold you will most likely be able to smell it in some form or another. The smell can be different depending on what variation of mold is growing bust it is usually a musty type smell. If you do notice a musty smell that was not there before it may be a good idea to further investigate.
Allergy-like symptoms
While a lot of the population suffers from allergy-like symptoms due to changes in the climate, sometimes they can be amplified by mold growth in your home. If you have symptoms of a runny nose, constant sneezing, congestion and puffy eyes, all while inside your home and not during peak allergy season, it could be another sign of mold growth.
Actually Seeing Mold
If you notice fuzzy, leathery black and green spots in areas of your home that are prone to moisture, that is probably the biggest indicator of mold growth in a home. The color can also appear as black, green, or whitish. For some examples take a look at the photos below.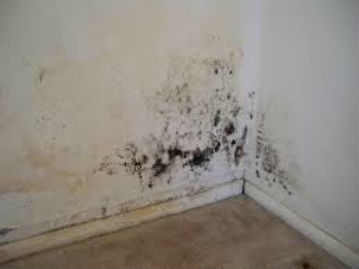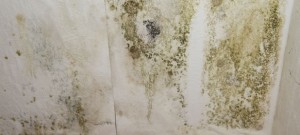 Find Areas With High Moisture
Especially in older homes, there can be areas that allow for significant moisture buildup becoming a breeding ground for mold. Signs of moisture build-up will be discoloration of walls and ceilings, visible water stains, and moisture on the surface area. Also, if you have had a recent pipe leak or flooding in your home this can lead to mold growth as well.
Where Does Mold Usually Grow?
The most popular place for mold growth in the home is your basement. Thanks to the lack of sunlight, abundance of pipes and typically poor airflow mold loves to make its home in dark, dungy basements. Other places that tend to have a higher chance of being affected by mold are appliances like the washer and dryer, windows, vents, air ducts, bathrooms and in-between floorboards, especially wood. Also pay attention to any closed off areas that could potentially trap moisture for extended periods of time.
Oh, No I've Found Mold, What Do I Do?
Because of the dangerous nature of mold, it is important to seek out a mold professional near you to take care of the issue before it escalates. When finding a mold remediation specialist be sure to find one that is well-trusted, has a plan of attack they can walk you through, and has the right tools to get the job done.
Contact a Mold Removal Specialist in Boston, MA
When you need effective Boston, MA, mold removal, you can count on Moldguys Restoration LLC to provide it. Our staff is trained and fully understands the consequences that come with fungus in any home. You can expect us to explain how to avoid the issue in the future once we fix it for you today. Please call our Boston, MA, office at (781) 910-5029 to arrange your first visit from our staff or fill out the contact form on this page to send the Mold Guys a message!